New Samsung S8530 Wave II Review: Riding the wave - Read More
- is the keyword that you are looking for, and we have it available to you on the blog
All About Gadgets
, on this occasion we will discuss the article entitled New Samsung S8530 Wave II Review: Riding the wave - Read More, we as admins on this blog has been providing information to you that we collected from various sources so that the information we present a very complete and lots of start about android, latest gadgets of various brands are like samsung, sony, asus, iphone, blackberry, we also provide information about how to fix a mobile phone, flash, rooting. so do not let you stay informed about the latest gadgets in this blog, hopefully our writing easy to understand, ok let please continue reading:
he information you are looking for :
New Samsung S8530 Wave II Review: Riding the wave - Read More
Full article :
New Samsung S8530 Wave II Review: Riding the wave - Read More
Article Mobile Phones
,
New Samsung S8530 Wave II Review: Riding the wave - Read More
androiditnow.blogspot.com
Introduction
They shall come in wave upon wave. Or so it seemed in the beginning. Samsung certainly wanted a strong start for their own Bada OS and they had it. It is usual for sequels to be questioned and belittled. That's one thing the Wave II doesn't have to worry about. It's bigger and heavier than the original.


When the second gen phone has a familiar sounding model name with an actual ordinal number in it – that doesn't mean a complete lack of imagination. It's a way to promote continuity. The Wave II has this base covered too – it's nearly the same phone as the first Wave but presumably upgraded to reach to a more high-end market segment. Here's a quick recap of its specs:
Key features
3.7" 16M-color Super Clear LCD capacitive touchscreen, WVGA (480 x 800 pixels), multi-touch input, scratch-resistant glass surface
Slim and solid metal body
Bada OS 1.2 with Samsung Apps
ARM Cortex A8 based 1GHz CPU
Quad-band GSM support with dual-band HSPA
Wi-Fi 802.11b/g/n connectivity with WPS support, Wi-Fi tethering
Built-in GPS receiver with A-GPS support, digital compass, Samsung LBS powered by ROUTE 66
5 MP autofocus camera with touch focus and LED flash, geotagging, face, smile and blink detection
720p video recording at 30fps
2GB internal storage, microSDHC card slot
Standard microUSB port and Bluetooth v3.0 with A2DP
Standard 3.5mm audio jack, TV out
Stereo FM radio with RDS, FM recording
Webkit-based Samsung Dolphin Browser 2.0 with Flash support
YouTube client, Facebook and Twitter integration
DivX/XviD video support
Good audio quality
Main disadvantages
Limited number of available applications
Super Clear LCD can't match SuperAMOLED
Card slot under the battery
No lens protection
SatNav software only a 30-day trial
No ambient light sensor to adjust screen brightness automatically
Poor loudspeaker performance
Wave II over original Wave
Latest Bada OS 1.2
Swype-like T9 Trace text input
Over-the-Air software updates
Larger 3.7" touchscreen
Yep, we know, it's not a great update. Plus the first three differences over the original Wave are about to be washed away once it receives its due software update to Bada OS 1.2.
The Samsung S8530 Wave II may not be the upgrade that all users have been waiting for, but the phone runs the latest version of the Bada OS and has kept all the great features of the original: from the powerful CPU, to premium connectivity and HD video recording.
And all this is delivered on a larger 3.7-inch display. Sure, it's no SuperAMOLED screen but Samsung promises the LCD screen is not your ordinary screen, too. You see, good things come in limited number and Samsung is pressed to supply enough SuperAMOLEDs for their Android and Windows Phone 7 operations.
Bad luck for the Wave II, we guess. Even worse for the original Wave – this phone will be as good as discontinued when the stocks run out. The Wave II will take over and that's that.
Anyway, Samsung are probably not giving up on their Bada OS. If it eventually becomes the base platform for all their midrange touch phones, they will be extremely well positioned to adapt to the new market reality.
It's not about the business benefits or the multitasking – it's as simple as apps. Users love to have them and makers love to sell them. Imagine being able to do that on all levels – from the most basic feature phones to the top-of-the-line smart devices. That must be enough reason for Samsung to keep their commitment to Bada.
Like it or not, the Samsung S8530 Wave II is just a step in the process. We're about to see whether it's as compelling as its predecessor. As usual, we start with the design and hardware, and then put Bada 1.2 under the microscope.
Organizer and apps
The Samsung S8530 Wave II comes with the Picsel Viewer on board. It works like a charm and is capable of pinch zooming. Both panning and zooming are fast and the overall performance of the Office viewer is excellent.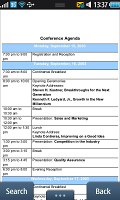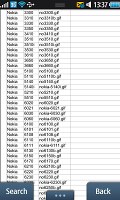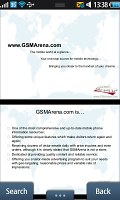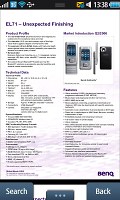 Picsel Viewer on Samsung Wave II
The calendar has three different types of view - daily, weekly and monthly. Adding a new event is quick and easy, and you can also set an alarm to act as a reminder.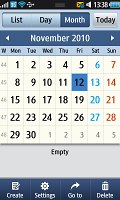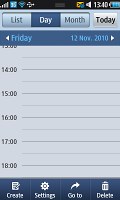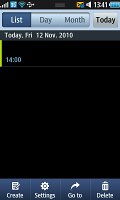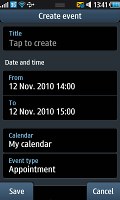 The organizer centerpiece - the calendar
The Samsung S8530 Wave II features a decent alarm clock application which allows a huge number of alarms to be set, each with its own start time and repeat pattern. It also hosts the world clock, stop-watch and timer functions. There is also a calculator aboard. It is nicely touch optimized - the buttons are big enough and easy to hit. Oh, the Wave II packs a voice recorder as well.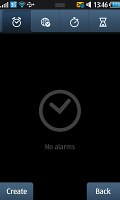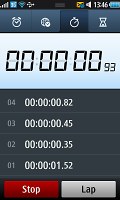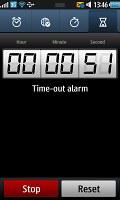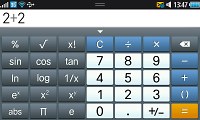 The Clock app has the alarm options, the world clock, the stop-watch and the timer • Calculator
Samsung have included the My Files app – a simple to use but functional file manager, which also doubles as an image gallery. It can move, copy, lock and rename files in bulk, even send multiple files over Bluetooth.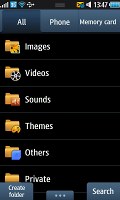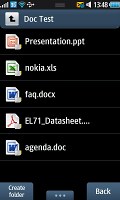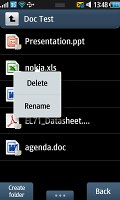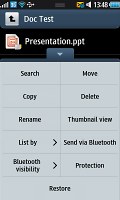 The My Files app
The System Manager is the first telltale sign the Wave II is actually a smartphone. It consists of four tabs. The first one shows the device information (model number, firmware version, MAC addresses), the second one displays the battery info, while the third and the fourth inform you on the CPU usage and the memory status, respectively. Along with the CPU usage you can also see the currently running apps and you can start the Task manager.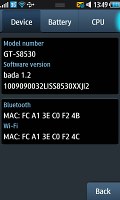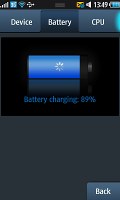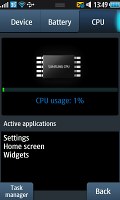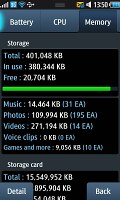 The System Manager
The Memo and Mini Diary are self-explanatory. The first app works with only text, while the Diary lets you also attach pictures.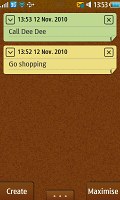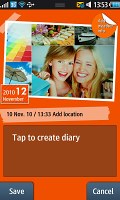 The Memo and Mini Diary
Social Hub is the messaging and media sharing Holy Grail – this one app allows you to create a message (it may pack media content too) and then send it to various services – SMS/MMS, email, social networks.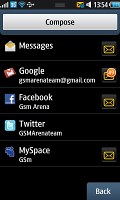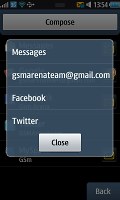 The Social Hub
Samsung also added native Twitter and Facebook clients on the Bada OS. They are nicely touch optimized and have similar looks and functionality as the respective apps for the iPhone and Symbian.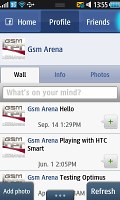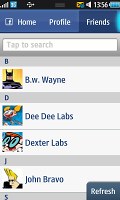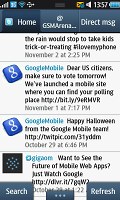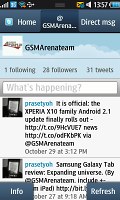 Facebook • Twitter
The Smart Search works on everything in your phone – contacts, images, music, videos, emails, history, apps, etc. It works excellent and helps when you have lots of content. It also offers internet search with Google or Bing.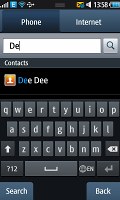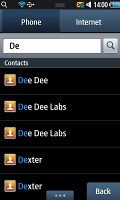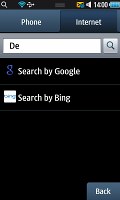 The Smart Search
Games
There are two full games pre-installed on the Wave – EDGE and Parachute Panic. You also get the Tumbling dice application.
The Tumbling dice app uses the built-in accelerometer. Shaking the phone for an occasional roll of the dice is a fun way to try your luck, and while it's free, it's not practical or particularly entertaining.
The EDGE is a very simple game, which also uses the accelerometer to control a cube over a space platform. Your goal is one - to make it to the end of the level.
Parachute Panic is very cute game – some guys jump from planes and you must open their parachutes and help them land on the ships below. The game has very nice paper drawing styling and is quite fun.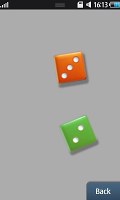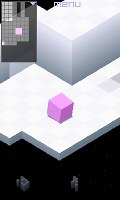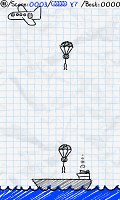 Tumbling dice • EDGE • Parachute Panic
There is also a bunch of demo games. They give you only about two minutes of gameplay each.
Unfortunately, Bada OS is still very young and its gaming potential is yet to be revealed in the future.
The Samsung Apps store
The Bada OS offers a native application repository from its start – the Samsung Apps. Samsung Apps is very similar to the Android Market. It has three tabs – featured, top and category view. There is also a download section and search option.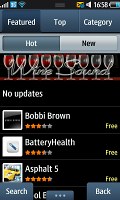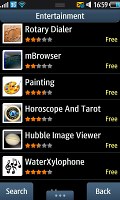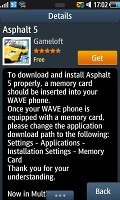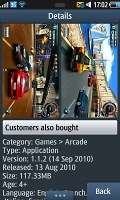 Samsung Apps
At the time we reviewed the original Wave we found only 60 apps over at the Samsung Apps store and now a total of nearly 3000 applications (both free and paid) are at your disposal.
And while this growth sure is impressive, the Samsung Apps store is far behind Apple's App Store, Google's Android Market or even the Windows Marketplace of the recently launched Windows Phone 7 platform.
GPS navigation comes at a price
The preinstalled navigation software on the Samsung S8530 Wave II can easily turn the handset in a fully functional SatNav system - especially thanks to the sensitive GPS receiver on board.
Wave II comes supplied with the Samsung LBS app, which is based on the ROUTE66 mobile application. Though its maps graphics have somewhat outdated looks, feature-wise there's really nothing missing. It has voice-guided navigation and a huge number of additional features, but the extra features come at a price.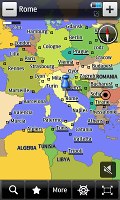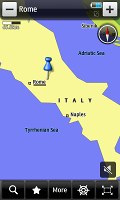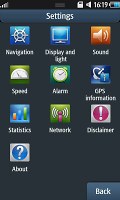 The GPS nagigation software
The navigation software comes with 30-day trial license for voice-guided navigation (drive and walk). After that you'll need a subscription, which is quite expensive. All other goodies require some extra payment and the whole package will cost you a lot.
There is no native Google Maps at this stage, but we hope the app will hit the Bada OS application store soon.
Final words
If you have the feeling the Wave II came out of nowhere you're not alone. This is not your usual upgrade – it's an emergency response to what might one day be known as the 2010 SuperAMOLED crisis. Just kidding really, but we guess it always helps to keep good humor when things don't go quite as planned.

In a nutshell, the difference between SuperAMOLED and Super (Clear) LCD is about the same as that between Superman and Super Mario. The major novelty is in fact a major liability for the Wave II and it's not the phone's fault. A 3.7" Super Clear LCD touchscreen can't match a 3.3" Super AMOLED but Samsung had no choice but try and make this work. The Bada OS is by the way not the only casualty of the AMOLED shortage.

So yes, we do think losing the SuperAMOLED screen was the worst thing that could happen to the Wave II. But in all honesty, they did try to make the whole thing less painful. Making the screen bigger seems the right thing to do. And other than the screen, it's the same phone with the whole set of top notch features intact.

You get the same 5 megapixel still camera and HD video recording and a complete connectivity package including Wi-Fi b/g/n, Bluetooth 3.0 and TV out. There's the impressively fast CPU and premium finish. And not least, the Bada OS has just been updated to v1.2.


Articles New Samsung S8530 Wave II Review: Riding the wave - Read More we have presented
A few information are discussed New Samsung S8530 Wave II Review: Riding the wave - Read More, hopefully we can give benefit to you in finding information on The latest technological gadgets.
You've finished reading an article
New Samsung S8530 Wave II Review: Riding the wave - Read More
and url link of this article is
http://androiditnow.blogspot.com/2016/11/new-samsung-s8530-wave-ii-review-riding.html
can you use a bookmark. Hopefully this article
could be useful and do not forget to look for more information in the blog All About Gadgets, thanks.
Tag :
Mobile Phones
,